Customer satisfaction through competent and innovative solutions.
Internet has become one of the most important media in business. Almost every company has a website today, and even company communication is partly handled completely over the Internet. There are good reasons for this, searching the web is much faster than searching in traditional media such as books or magazines. Also, it is much easier and more cost-effective to advertise products online, e.g. by means of an Onlineshop.
On the following pages, you will discover the possibilities the Internet offers to your company.
We are happy to advise you in detail. Contact us!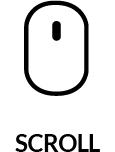 In addition to programming your website, web design plays an important role in the design and implementation of your new Internet presence.
The company home page is becoming more and more a business card and a flagship of your company.
In addition to the mere information flow generated by a website from the company to the user, the corporate identity of the company should also be reflected in the web design.
The time of the most extravagant and extremely unusual web presence has long been counted. Of course animation effects or special color schemes can be installed to attract attention. The goal of a homepage is, however, to offer visitors the greatest possible benefits. This is usually achieved not by playful animations, but by a simple, well-designed and professional-looking web appearance.
Just as important as the design and the perfect implementation of the website is in today's time the compatibility with mobile terminals, especially with smartphones. The integration of on-demand databases and shop systems can also be an opportunity for your company.
Many web developers forget that more than half of Internet users now regularly access their websites with their smartphones. For this reason, we set up our websites for the respective devices or set up a second page for them.
Would you like to find out more? Contact us!
3D functionalities help your website to a new and fresh appearance. Everything is possible - from camera rides to complex, superimposed process chains or graphics that map your product and service portfolio.
We develop your Internet presence so that the user immediately understands the possibilities offered by your products.
A website is not just about design, but also about content. The important thing is that you can change the texts and data of your website yourself. Content management systems (CMS) serve this purpose. Another advantage of the interaction is the absolute transparency for you, your services and products. They always keep the look, whether wording, database or graphic changes, everything from a single hand in clear structure.
Successful interaction is a complex topic, which wants to be trained and educated after the well-thought-out installation. We are glad to be here for you!
With an Internet presence you have a goal. For example, you want the visitor of your website to buy your product online or at least fill out a contact form.
In order for the visitor to perform this action, he must be on your side. We design your website in such a way that your visitor always keeps an overview of your Internet presence. In this way, he quickly overrides the benefits of your products and, in the best case, concludes the purchase (or fill out the contact form).
The structure of a website is therefore to be considered well. That's why we support you from the very first minute, and we coordinate our programming with your online marketing goals and content.
The maintenance of your website takes place today in a big way through various content management systems, which you can maintain or maintain by us.
This is important in order to bind customers and provide the search engines with fresh content. These influence your ranking at Google & Co. In addition, you will present your news and direct the interest of potential customers to your company.
We would be pleased to advise you.
Numerous users - especially in the business sector - are now using smartphones to surf the Internet. Think about managers who are hurrying from one meeting to the next or customers who are traveling a lot. That is why we set up your website in such a way that it is also readable by smartphone.
We are pleased to present our solutions.
We are happy to develop individual apps so that you are always present on smartphones and on the web.
Your app must not only be visually successful. If the underlying function offers your customer more than a mere explanation, your customers will accept the app.
Apps are a social and economic future. Please do not hesitate to contact us!